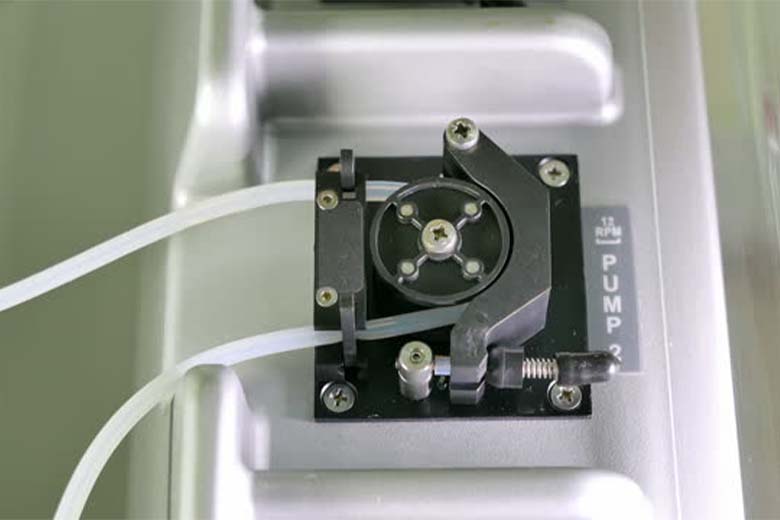 What is a peristaltic pump?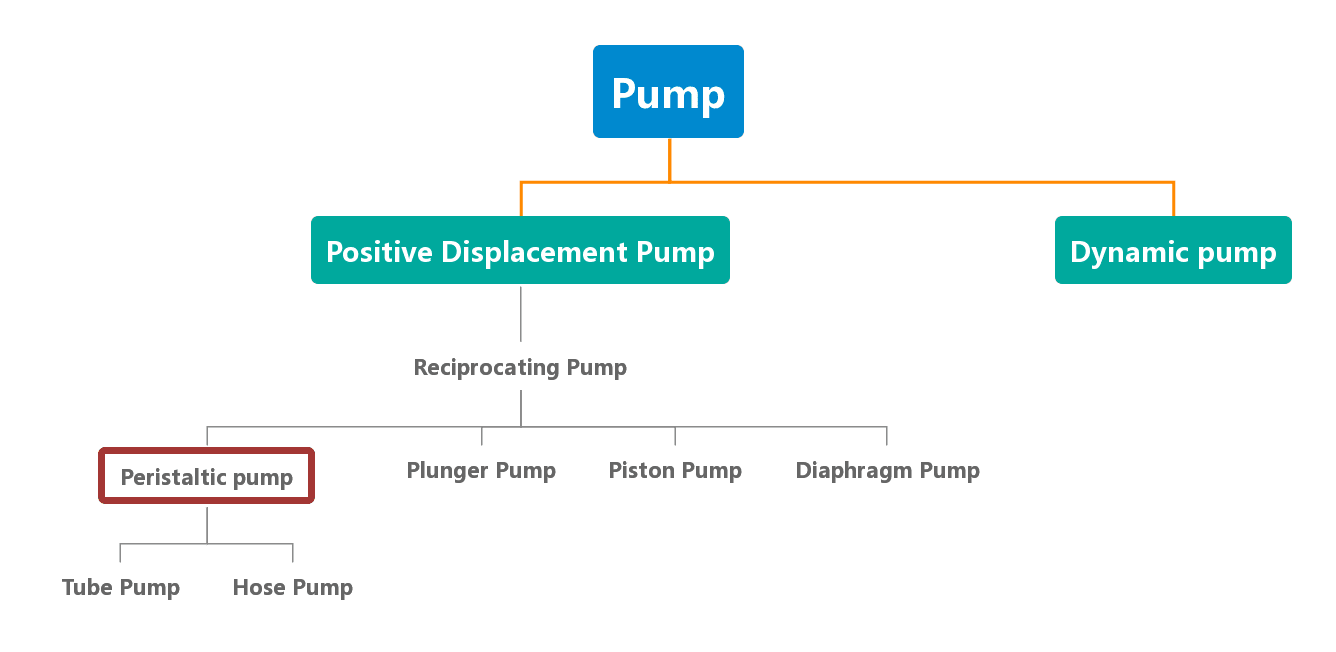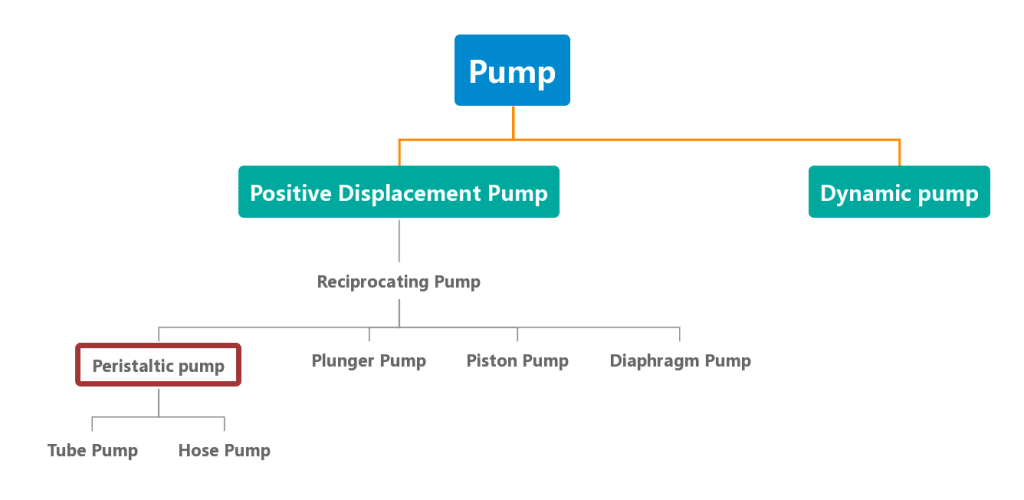 Peristaltic Pump is a type of pump that belongs to Positive Displacement Pump. Peristaltic pumps are a subcategory of Reciprocating Pumps. Reciprocating pump is a class of reciprocating piston or plunger to achieve the reciprocating motion of the pump type of liquid pumping, while the peristaltic pump is a special type of reciprocating pumps, it is through the hose (or pipe) of the squeeze and release to achieve the pumping of fluids. Although the peristaltic pump and the traditional piston pump or plunger pump in the working principle and structure of the differences, but they all belong to the category of reciprocating pumps.
Working principle and use of peristaltic pump
How peristaltic pump work?
The operating principle of a peristaltic pump is based on "peristalsis" or "peristaltic motion", which is achieved by squeezing and releasing the fluid in a hose (or pipe) to pump the fluid. The following are the basic operating principles of peristaltic pumps:
Pump head and hose: peristaltic pumps have a pump head with one or more internal rollers or sliders. Flexible tubing or hose is placed in the pump head to contain the liquid being pumped.
Squeeze operation: the roller or slider inside the pump head rotates along a specific path around the hose. When the roller or slider passes through the hose, it squeezes the outer wall of the hose, causing the hose to be closed.
Liquid push: Squeezing the hose causes the liquid inside the hose to be pushed to the closed end of the hose, which increases the pressure in that area. This pushes the liquid forward in the hose towards the outlet of the pump.
Release operation: As the roller or slider continues to move, the hose returns to its original shape. This causes the closed side of the hose to open, creating a low-pressure area that helps attract more liquid from the supply side into the hose.
Cyclic repeat: The cyclic movement of the roller or slider causes the liquid inside the hose to be continuously squeezed and released, resulting in continuous pumping of the liquid.

How to use peristaltic pump?
First, fit a flexible tube or hose suitable for the liquid being pumped into the pump head, making sure the connection is secure. Then set the desired flow rate and pumping speed, usually adjusted via a control panel or knob. When the pump is started, the roller or slider squeezes the hose and pushes the liquid out. When the roller or slider passes, the hose returns to its original shape, creating a low-pressure area within the hose that attracts more liquid in. In this way the cycle repeats itself, the peristaltic pump can achieve accurate metering and continuous pumping of liquid, suitable for a variety of applications in the medical, pharmaceutical, laboratory and other fields. After use, pay attention to maintenance and cleaning to ensure the normal operation of the pump and contamination-free delivery of liquid.
How to control the peristaltic pump?
Control panel: Most peristaltic pumps are equipped with a control panel with buttons, knobs and a display. You can use these control elements to set flow rates, pumping speeds and other parameters.
External control signals: Some advanced peristaltic pumps allow operation to be controlled via external control signals. This can be a voltage signal, a digital signal, or other types of signals used to adjust flow rates and pumping speeds.
Computer interface: Some peristaltic pumps have an interface to communicate with a computer, such as USB, RS232, RS485, etc.. By connecting to a computer, you can use specific software to remotely control and monitor the operation of the pump.
Remote controller: Some peristaltic pumps come with remote controllers, which allow you to adjust parameters and operations through a remote-controlled device.
Automation system integration: If you integrate the peristaltic pump into an automation system, you can use a PLC (Programmable Logic Controller) or other automation control device to integrate and control the pump operation.
Manual operation: For some basic peristaltic pumps, you can control the pump operation directly by manually adjusting the buttons and knobs on the control panel.
What are the characteristics of peristaltic pump compared to plunger or piston or diaphragm pump?
Low shear effect: Peristaltic pump principle of operation makes it characterized by low shear effect, because the liquid is squeezed and released, does not involve high-speed rotation or agitation, suitable for applications that require the maintenance of the structural integrity of the liquid.
No leakage and contamination: Peristaltic pumps use hoses or tubes as a liquid channel, liquid and pump moving parts without direct contact, to avoid leakage and contamination problems, suitable for applications that require a high standard of hygiene.
Adapt to a variety of liquids: Peristaltic pumps are suitable for handling different types of liquids, including chemicals, pharmaceuticals, food, biological samples, etc., while plunger pumps and piston pumps in different liquids may require more adjustment.
Reversible pumping: Peristaltic pumps can be reversed to achieve bi-directional pumping, suitable for applications that require back and forth flow, while plunger pumps and piston pumps usually do not have this feature.
Simplified maintenance: peristaltic pump maintenance is relatively simple, usually only need to replace the hose or tube, while the plunger pump and piston pump may require more maintenance and adjustment.
Reduce the risk of contamination: Peristaltic pumps can avoid direct contact between the liquid and the pump components, thereby reducing the risk of contamination of the liquid, suitable for applications requiring a high degree of purity.
What is low shear action?
Low shear action is a situation where the shear or shear force exerted in a fluid is small. In fluids, shear is the relative motion between fluid molecules due to different velocities, which results in sliding between different parts within the fluid. The magnitude of the shear force depends on the viscosity of the fluid and the speed of flow.
Low shear means that the shear force applied to the fluid is relatively small and does not cause large relative movements between fluid molecules. Typically, low shear forces are small and the fluid flows relatively slowly. In some applications, especially when working with fluids, it is necessary to maintain the structure and properties of the fluid to avoid molecular breakage, mixing and destruction. This requires the selection of fluid handling methods or equipment with low shear action.
The advantage of low shear action is the protection of the conveyed fluid. For some sensitive fluids, such as fragile particles, highly concentrated suspensions or perishable fluids, low shear action can effectively reduce the possibility of material destruction, agglomeration, separation or deterioration. Therefore, peristaltic pumps are widely used in some specific industrial fields, such as food processing, pharmaceutical and chemical industries. By reducing shear, peristaltic pumps ensure that the quality and characteristics of the liquid are not damaged.
How to choose the material of peristaltic pump hose?
Although the low shear of a peristaltic pump protects the fluid, the material of the hose is still a very important consideration. The material of the hose affects the performance, durability and applicability of the peristaltic pump.
It is very important to choose the right hose material to avoid contamination of the product. Different hose materials have different chemical properties and resistance, so it is critical to choose a material that is compatible with the fluid being pumped. Below are some common hose materials that are commonly used in peristaltic pumps to ensure that there is no contamination of the product:
Silicone (Silicone): Silicone hoses have good chemical and temperature resistance. They are suitable for many pharmaceutical, food, biological samples and medical applications and will not react adversely with most liquids.
Fluorinated Ethylene Propylene (FEP): FEP hoses have excellent chemical resistance and are suitable for the transportation of liquids such as strong acids, bases and solvents.
Polytetrafluoroethylene (PTFE): PTFE hose is a colorless and transparent material, suitable for chemical, pharmaceutical and food industry liquid transportation.
Chlorosulfonated Polyethylene (CSM): CSM hose is suitable for the transportation of some strong acid and alkali liquids, and has good abrasion resistance.
Polyethersulfone (PES): PES hose is used in the biopharmaceutical, medical and food industries and can withstand high temperatures and harsh cleaning processes.
Polyurethane (PU): Polyurethane hose has good abrasion resistance and is suitable for a number of industrial and environmental applications.
Fluoroelastomer (FKM): Fluoroelastomer hose is suitable for the transportation of some organic compounds and solvents, with good chemical resistance.
Can peristaltic pump be pumped under high pressure?
Peristaltic pumps can be used to some extent for high pressure pumping, but their limit of suitability for high pressures is limited by their design and type. In general, peristaltic pumps are suitable for applications in the low to medium pressure range, typically operating in the pressure range between 0.2 bar (2.9 psi) and 10 bar (145 psi). If higher pressure pumping is required, peristaltic pumps may not be the best choice.
There are several main reasons why peristaltic pumps are usually not suitable for pumping at high pressures:
Design limitations: peristaltic pump design and operating principle determines its relatively low maximum working pressure. Peristaltic pumps use hoses or tubes to pump liquids by squeezing and releasing. When the liquid is squeezed, the hose will be subjected to extrusion pressure, which will lead to the hose material to withstand the pressure, exceeding its design limits may lead to hose rupture or leakage.
Hose pressure performance: peristaltic pump hose pressure resistance is usually low, so under high pressure, the hose may not be able to effectively withstand the pressure of the liquid, resulting in rupture or damage to the hose.
Unstable performance: Under high pressure, the performance of the peristaltic pump may become unstable, inaccurate flow control, because the deformation and stress of the hose may lead to unpredictable pumping behavior.
If a peristaltic pump is used under high pressure, the following problems may occur:
Ruptured or leaking hoses, resulting in fluid leaks and downtime.
Pumps have erratic flow control, making it difficult to accurately control the flow of liquids.
The life of the pump may be significantly shorter, requiring more frequent maintenance and hose replacement.
High-pressure applications often require specially designed and manufactured pumps, such as piston pumps(HJ-Z Mechanical Dosing Pump) or diaphragm pumps(H Solenoid Dosing Pump), as they are better suited to meet high-pressure requirements, providing more consistent performance and higher pressure resistance. Peristaltic pumps may experience hose breakage or other performance issues at high pressures, so when selecting a pump model, you need to consider the specific application requirements.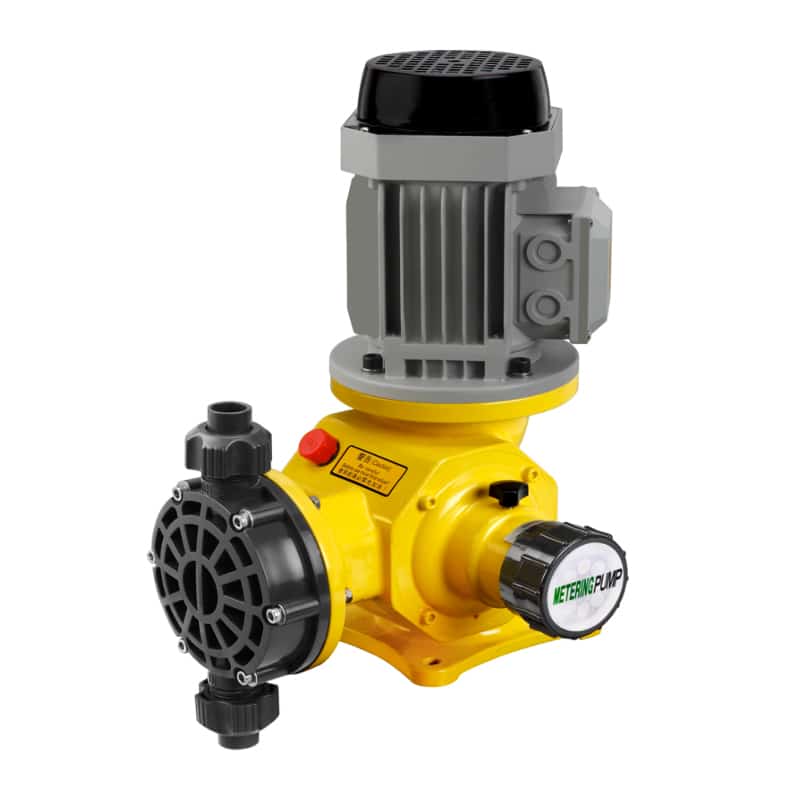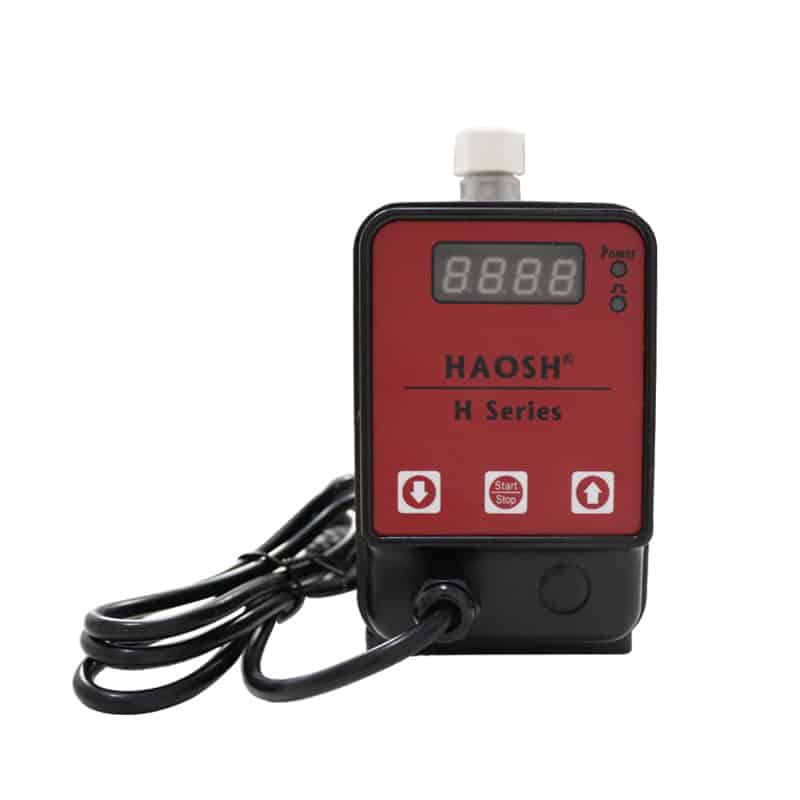 If you need to carry out high pressure pumping, it is recommended that you consult with HAOSH to ensure that you select the right type of dosing pump for your needs and to ensure the safety and performance of your system.
Is the peristaltic pump a proportional pump?
Peristaltic pumps can often be used as proportional pumps, but not all peristaltic pumps are specialized proportional pumps. A proportional pump is a pump that is used to mix and deliver liquids of different compositions in specific proportions. In applications where multiple liquids need to be mixed in precise proportions, peristaltic pumps can be configured as proportional pumps.
A proportional pump configuration typically involves the use of multiple independent peristaltic pumps, each responsible for delivering a specific component. These pumps can be precisely set to a specific flow rate to achieve the desired mixing ratio. Calculating and adjusting the flow rate settings can be done based on the mixing ratio, ensuring that the composition of the final mixed liquid is accurate.
In summary, peristaltic pumps can be used in proportional pumping applications by themselves, but the specific suitability for proportional mixing depends on the configuration and design of the peristaltic pump. In practice, it is important to ensure that the appropriate peristaltic pump model and configuration are selected to achieve the desired proportional mixing.
Application areas of peristaltic pump
Medical field: Peristaltic pumps are used in the medical field to deliver medications, injectable fluids, infusion solutions, and a variety of medical fluids because it provides precise flow control, maintains the integrity of the medication and reduces the risk of contamination.
Pharmaceutical industry: In the pharmaceutical process, peristaltic pumps are used to transfer agents, solutions, media, etc., to different steps to ensure that each step of the precise ratio and flow control.
Food and beverage industry: peristaltic pumps are used to convey food, beverages, pastes, fillings, etc., as it can avoid food shear and contamination, suitable for applications that require precise control of ingredients.
Environmental engineering: in the field of water treatment, wastewater treatment, sewage treatment, etc., peristaltic pumps are used for conveying chemicals, additives, pharmaceuticals, etc., in order to achieve precise dosing and treatment.
Laboratory research: In the laboratory, peristaltic pumps are used for sample preparation, solution formulation, automated experiments, etc., providing reliable flow and liquid management.
Petroleum and chemical industry: Peristaltic pumps are used in the petroleum, chemical, and paint industries to transfer chemicals, pigments, additives, etc., as they can handle liquids that are volatile or corrosive.
Mining and metallurgy: peristaltic pumps are used in the mining and metallurgical fields for conveying slurries, corrosive liquids, and disposal of waste.
Sanitation: In sanitation, peristaltic pumps are used to convey disinfectants, cleaning agents, lubricating oils, etc.
Energy industry: in energy production, peristaltic pumps are used to transport chemicals, additives, and the treatment of wastewater and waste liquids.
Summary
Peristaltic pumps achieve precise pumping of liquids by squeezing and releasing the hose, with low shear action, for applications with fragile substances and high hygiene requirements, as well as for handling particulate suspensions, highly concentrated liquids, and so on.
HAOSH offers dosing metering pumps, pump accessories, mixer agitators and dosing systems. A trusted partner for dosage metering.